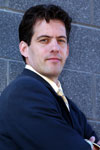 Luc Tremblay – Senior architect
Luc Tremblay was born in Montreal and graduated from the School of Architecture at Laval University.A member of the Quebec Order of Architects, he opened his own firm in 1990 acontactusnd obtained a number of residential projects before working on various commercial projects. Mr.Tremblay is well known in the Charlevoix district where his clients appreciate his approach founded on strong concepts and functional layouts. His love of skyscrapers originally drew him to architecture with the conviction that his career would lead him to work on a truly unique project.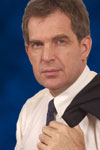 Erik Sieb – Project manager
Born in Montreal, from an American father Erik Sieb's twenty five-year career has spawned achievements in diverse fields ranging from project management for a communication giant to consultant in new products development and marketing. He has also served as logistics coordinator for many televised major sporting events (1994 US Soccer Cup, 1996 Atlanta Olympic Games) and filled a wide range of functions in the construction and hospitality industries. Passionate about skyscrapers, Mr. Sieb's current occupation is to develop a concept for the replacement of the World Trade Center. He has dedicated the past nine months, nights and week-ends to this project.

Benoit Gauthier –Architectural illustrator
Following his studies at the Lévis-Lauzon CEGEP in Architectural Technology, Mr. Benoît Gauthier began to work in the offices of a number of architects, engineers and industrial designers. He has developed an invaluable expertise as an architecture technician, perspectivist and creator of various projects, both institutional and commercial. After 15 years of experience and a constant quest for authenticity, Mr. Gauthier seeks to develop and illustrate his projects with astonishing realism. He has participated in several architecture and urban design competitions in different countries, including Poland, Costa Rica, Indonesia, Saudi Arabia, the United States and Canada.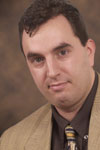 Francois Lépine- IT Consultant
François Lépine has enjoyed 15 years of production experience in a broad spectrum of (IT) information technology, including new internet application and custom designed On-line tools. He also has a vast experience in developing animation, visual effects, computer graphics, sound treatment and music composing. He began his career in 1992 as a freelance 3D animator and designer in Québec city. Since he joined Erik Sieb in 1997 as a Computer Graphics and Internet strategy consultants, François has produced numerous projects such as: effective marketing material, award- winning promotional CD-Rom, and numerous web sites. Currently François is Director of Development for Médiane Multimedia, and is continuing to develop several independent projects, co-writing and directing an interactive role-playing adventure for an on-line gaming system.